---
There are currently 824 Guests and 98 Members online NOW!
VA
-
2
,
NC
-
84
,
SC
-
2
,
GA
-
1
,
WFL
-
2
,
AL
-
2
,
LA
-
1
,
---
---
Need help getting Logged In?
---
Recreational Fishing Alliance
Contact: Jim Donofrio/ 1 888 564-6732


For Immediate Release
October 7, 2016
New Gretna, NJ - On the heels of the Obama Administration creating a near 5,000 square mile national marine monument in New England, several campaigns have materialized in the past week that propose to nominate extremely popular recreational fishing areas in the Mid-Atlantic region through the National Marine Sanctuaries Act. The areas in question include the Hudson, Wilmington and Baltimore Canyons which are arguably the best offshore fishing grounds along the Atlantic coast. Anyone who fishes offshore, runs an offshore tournament, sells or manufactures offshore fishing gear, boats or equipment should be extremely concerned about this organized crusade to create marine sanctuaries off the Atlantic coast.

The proposed Hudson Canyon marine sanctuary nomination is being pushed by the Wildlife Conservation Society (WCS), a non-profit based out of New York City. WCS is both privately and state/federally funded. With over $253 million in revenue in 2014 and $746 million in assets, the WCS is an ENGO powerhouse. As per its IRS 990 returns, the WCS does grassroots lobbying campaigns on federal legislation dealing with conservation. It also advocates for funding for zoos. The proposed Wilmington and Baltimore canyon nominations are being pushed by the National Aquarium in Baltimore, MD. Similar to WCS, the National Aquarium has hundreds of millions in assets and several associated foundations and entities that it uses to promote conservation of aquatic resources and other priorities.

This flurry of sanctuary nominations is in direct response to NOAA revising the sanctuary nomination process back in 2014 to encourage more organizations and community-based campaigns to nominate areas. A review of the public comments submitted to the agency's proposed changes for the sanctuaries nomination process back in the spring of 2014 illustrates the massive push by the environmental industry to implement changes to the nomination process. Of the over 18,000 comments, the majority are from individuals who were clearly just clicking a button to a electronic campaign created by the environmental industry. This appears to be a well planned and timed effort to coincide with the current administration's final months in office and its political appointee heading the Department of Commerce.

The problem with the National Marine Sanctuaries law is that there are no guarantees that fishing will be allowed to continue regardless of what the entity doing the nominating promises. The Act includes vague language that could apply to just about any activity. Section 1431 et seq, section 306 (Prohibited Activities) states that it is unlawful for any person to -(1) destroy, cause the loss of, or injure any sanctuary resource managed under law or regulations for that sanctuary: If you then refer to the definition section of the Act, Sec. 302(8), a sanctuary resource is defined as any living or nonliving resource of a national marine sanctuary that contributes to the conservation, recreational, ecological, historical, educational, cultural, archaeological, scientific, or aesthetic value of the sanctuary. Section 306 of the law coupled with the definition for natural resource clearly indicates that a recreational angler injuring a fish through catch and release could be considered a prohibited act. More importantly, these sections clearly give Sanctuary management statutory authority over fishing.

Additionally, sections 311(b-c) allow the Secretary of Commerce to enter into agreements with nonprofits to solicit private donations and to accept donations to carry out the purposes and policies of the National Marine Sanctuaries Act. Considering the budget and assets available to many of the national environmental organizations, like the WCS, it's clear that non-profits can have an inordinate amount of influence on sanctuary management.

"One only needs to look to our unfortunate friends on the west coast and how the partnership between the State of California and the Packard Foundation to fund the Marine Life Protection Act (MLPA) worked out for fishermen," explained Jim Donofrio, Executive Director. "This is a dangerous situation."

RFA will be working with federal and state legislators organizing a strong, grassroots opposition to these proposals. In addition, RFA will work to develop a long-term solution that affords recreational fishermen legal protection from marine sanctuary designations.
Read More
---
---
---
---
---
---
---
---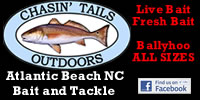 ---
---
Penn International 80 (price reduced)
Last post by PUNCH420
Oct 26, 2016 at 15:22:00
Selling 2012 Sea Hunt Gamefish 25- Excellent condition! $69,500
Last post by PUNCH420
Oct 26, 2016 at 15:17:44
Penn Fathom-master downrigger's (Pine Knoll Shores)
Last post by glacierbaze
Oct 26, 2016 at 13:52:14
Large Bimini Top with all mounting hardware
Last post by BILLFISHIN
Oct 26, 2016 at 11:52:08
Thule Racks
Last post by MacC
Oct 26, 2016 at 09:31:26
Penn 50 Sw 2 speed reels and rods
Last post by Back-Lash
Oct 26, 2016 at 06:46:57
WTB - hardtop for 23 SeaCraft
Last post by CUTiger2011
Oct 25, 2016 at 18:15:35
Yamaha 150 4stroke for sale
Last post by chasingingers2908
Oct 25, 2016 at 06:05:11
---
---
---
What does THIS have to do with fishing?


---