---
---
Posts: 1
Location: San Simeon, CA
Mon Jan 20, 2020 10:16 pm
If I'm using 10# mono on a 9 foot surf rod with a spinning reel, how many ounces of weight should I tie to the line to get the bait "way out there" without the line snapping off? Is there some sort of rule of thumb for a ratio of lead weight to line strength? How much does casting technique factor in? I can consistently cast 2 ounces of lead on 20# test mono to reach just beyond the breakers by "rocking" the weight back and forth before casting. OR....is this just a "learn by doing" thing? I'd like to use line lighter than 20# mono.

Thanks.
_________________
DFY
---
Posts: 376

TIE ON APPROX. 20FT OF 30 LB MONO AS A TOP SHOT TO ABSORB THE SHOCK OF CASTING STRESSES , IT ALSO HELPS IN THE EXTRA STRESS OF LANDING FISH IN SURF CONDITIONS.... MY 2CTS WORTH
---
Posts: 2081

Shock leader is a must have when surf casting. Shock leaders absorb the shock when a rod is loaded up on the cast.
I use 60# at least 5 wraps around my reel plus a double length of the rod.tied to 18 # mono for big fish.
Sinkers are determined by the current your fishing.
Always use a "fish finder rig"......ICM

Here's a good article to read, will explain a lot.
https://vbsf.net/articles/surf-fishing-101/surf-fishing-101-contined/surf-fishing-102/
_________________
Cape Fear Anglers.
My wife keeps saying I do not listen to her .... or something like that.
---
---
Images
ba1ed69f54e64686ea858f38601d6250.jpg
Description:
Filesize:
36.92 KB
Viewed:
1212 Time(s)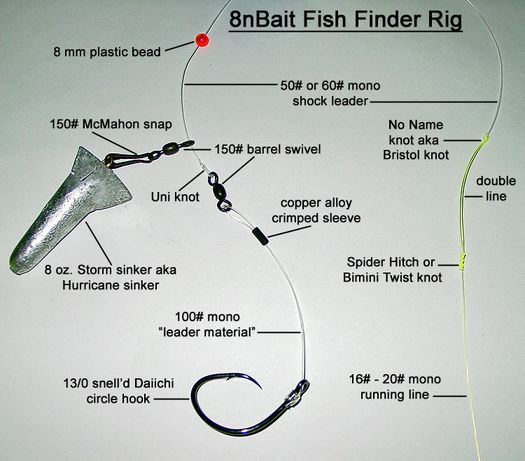 ---
---
Images
a2c75339c48d3e275b275e96806780c7.jpg
Description:
Filesize:
26.9 KB
Viewed:
1212 Time(s)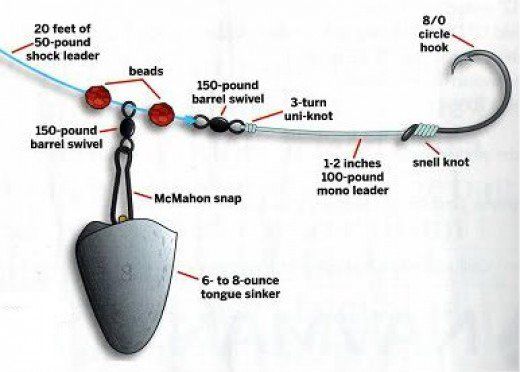 ---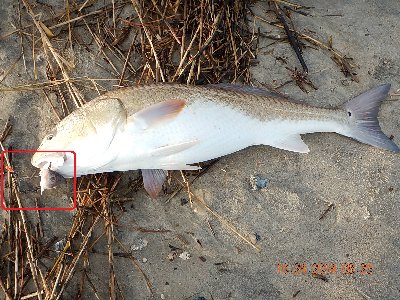 ---
---
Posts: 8

Some really great advice here, and completely worth reading. In New England, by far, most of us in the surf use a far more simple approach to fishing. We typically use a straight forward 20 pound backing followed up with a 50 pound leader. We usually add a fishfinder with a 3 or 4 ounce weight to it. The knot is extremely important, typically we tie a palomor knot,. We do that so if we switch to a bober to float our bait (which we do when we use worms), the bait will turn and swivel. The rigs you have just shown are truly spectacular, and I am definitely going to try them in late May/Early June when the fish return.

-Scott
---
---
---
---
You

cannot

post new topics in this forum
You

cannot

reply to topics in this forum
You

cannot

edit your posts in this forum
You

cannot

delete your posts in this forum
You

cannot

vote in polls in this forum
You

cannot

attach files in this forum
You

can

download files in this forum

How much weight to use casting in the surf - SaltwaterCentral.Com