---
---
Posts: 2928
Location: Wilmington NC
Introducing my son Marc and my new to us boat. Finally tied up in our slip. 2005 Sailfish 2660 with twin Yamaha 250's. La Dolce Vita (The Sweet Life). Ready to get the decks bloody.
_________________
La Dolce Vita (The Sweet Life)
Sailfish 2660

USN Submarine Veteran
Knight of Neptune
USS Corporal SS346
Death From Below

There are only 2 types of ships.
Submarines and Targets

Coastal Carolina Submarine Veterans

Cape Fear Anglers
---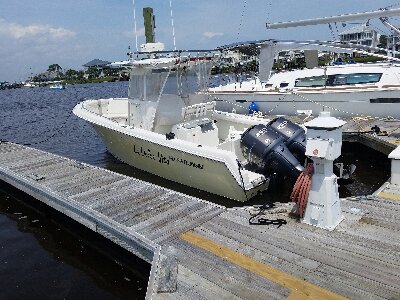 ---
---
Posts: 2197

Barry and Marc

Tight lines and light winds, don't forget to get some tuna in the box soon!!
_________________
SeaHunter 41
17 Mitzi Skiff
---
Posts: 93
Location: Bolivia, NC
Congrats Barry............ can't wait to see your fish reports!!!
_________________
John Lyons
Fishfull Thinking- 2018 Parker 2510 DV twin Yamaha 250\'s
---
Posts: 297
Location: Duplin County, NC
Nice... now for a break in the weather.
_________________
Capt Phillip Loughlin
Katfish Kayak and Fishing Adventures, LLC
Kayak Mothership and Offshore Fishing Charters
Canyon Wren - Parker 2320 SC - 300hp Yamaha
---
Posts: 2928
Location: Wilmington NC
KatfishKayak wrote:
Nice... now for a break in the weather.

Wish I could find out who has the switch for the fan. It needs to be shut down.
_________________
La Dolce Vita (The Sweet Life)
Sailfish 2660

USN Submarine Veteran
Knight of Neptune
USS Corporal SS346
Death From Below

There are only 2 types of ships.
Submarines and Targets

Coastal Carolina Submarine Veterans

Cape Fear Anglers
---
Posts: 324
Location: greenville & emerald isle
Good looking ride!
_________________
2018 23\' Outrage 250 Verado
---
Posts: 830
Location: Wendell, formerly from Burgaw
Great looking ride Barry. Hope you and Marc have lots of great days on her.
_________________
C Wayne, Retired
20 ft Wellcraft
Salt Water Therapy

Wayne Batten Agronomic Services
---
Posts: 799
Location: Beaufort Inlet
---
Posts: 60

Sun May 24, 2020 12:38 pm
Congrats Barry! Great looking boat.

v-hull
_________________
\'96 Edgewater 240 cc, 300 Suzuki 4-stroke
---
Posts: 699
Location: Raleigh/Atlantic Beach
Mon May 25, 2020 10:21 am
Congrats. I think your going to really like that Sailfish. The 2660 is a great riding hull in my opinion. Good luck and those 250's should push her just fine.
_________________
Sailfish 2660 w/twin Yamaha 150 4 strokes.
\"Dirty D\"

Key West 2300CC Bluewater
SOLD.
Raleigh/Atlantic Beach NC.
\"Dirty D\"
---
Posts: 304

Tue May 26, 2020 11:18 am
I have the same boat with 150's, got it 3 years ago and love it. Time to get her bloody, if the fan will ever turn off. Nice looking Sled, good luck out there.
---
---
---
---
You

cannot

post new topics in this forum
You

cannot

reply to topics in this forum
You

cannot

edit your posts in this forum
You

cannot

delete your posts in this forum
You

cannot

vote in polls in this forum
You

cannot

attach files in this forum
You

can

download files in this forum

New boat - SaltwaterCentral.Com