---
---
Posts: 104
Location: Wilmington
My father and I want to get into Wahoo trolling. He has the boat. we'll be trolling 4-5 lines max due to the outriggers not being mounted on the boat yet. We are going to sell a few guns to buy a planer rod setup as well. What some go to lures for trolling? How about rod/reels? We have a bunch of penn senators that i think will get us by for now. Do we need 50lb class reels all around? thanks, any help will be appreciated.
_________________
USCG Chief Engineer Unlimited HP
1996 Mako 19 cc 150hp salwater series II
2017 Kencraft Bayrider Skifff 2260FS (SOLD)
2010 Sea Hunt 210 Ultra 150hp Yamaha (SOLD)
2014 Sweetwater 2286 Pontoon 70HP yamaha (Sold)
---
Posts: 72

Wed Jan 30, 2019 10:17 am
30 and 50 class reels will be fine

sea witch's with ballyhoo, dark ilander with ballyhoo on shotgun and planer
---
Posts: 980
Location: Beaufort Inlet
Wed Jan 30, 2019 11:48 am
---
Posts: 104
Location: Wilmington
Wed Jan 30, 2019 11:53 am
thanks to both of you. I'll watch those videos tonight
_________________
USCG Chief Engineer Unlimited HP
1996 Mako 19 cc 150hp salwater series II
2017 Kencraft Bayrider Skifff 2260FS (SOLD)
2010 Sea Hunt 210 Ultra 150hp Yamaha (SOLD)
2014 Sweetwater 2286 Pontoon 70HP yamaha (Sold)
---
Posts: 763

I am actually putting a bag together to go out on Friday here are some Lures That I use.
---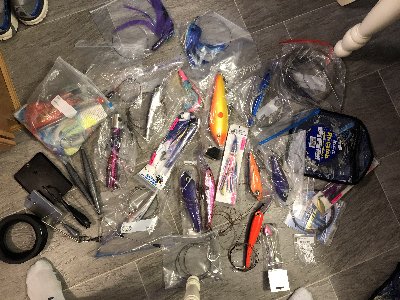 ---
---
Posts: 980
Location: Beaufort Inlet
---
Posts: 725
Location: Ilm
Thu Jan 31, 2019 10:15 am
Any sea witch style lures are great as long as they are blue and white, or white and blue....jk.

We've been having success with just about every color but we like the sea witches in those colors as well as purples, orange and black as well as red and black. We like some Mylar in them too.
We've been using the blue and silver Carolina lures with big success lately. The ones with chrome heads.
---
Posts: 104
Location: Wilmington
Thu Jan 31, 2019 11:27 am
RKForte wrote:
I made a video awhile back on some basic wahoo lures. Check it out. You don't need all the stuff in the video but it will give you a good idea. I started with a TLD 50LRSA on my planner rod then moved up to a Tiagra 50 LRS. Both work fine. If your on a budget I would go with the TLD 50LRSA. However, there are other great reels out there.

https://www.youtube.com/watch?v=nD_QfblnsfY&spfreload=10


Thanks man, great video!!
_________________
USCG Chief Engineer Unlimited HP
1996 Mako 19 cc 150hp salwater series II
2017 Kencraft Bayrider Skifff 2260FS (SOLD)
2010 Sea Hunt 210 Ultra 150hp Yamaha (SOLD)
2014 Sweetwater 2286 Pontoon 70HP yamaha (Sold)
---
Posts: 980
Location: Beaufort Inlet
Thu Jan 31, 2019 12:13 pm
---
Posts: 3140

---
---
---
---
You

cannot

post new topics in this forum
You

cannot

reply to topics in this forum
You

cannot

edit your posts in this forum
You

cannot

delete your posts in this forum
You

cannot

vote in polls in this forum
You

cannot

attach files in this forum
You

can

download files in this forum

New to wahoo trolling. Lure suggestions "starter pack" advice - SaltwaterCentral.Com