---
---
Posts: 750
Location: Wilmington, NC
Wed Nov 07, 2018 12:15 pm
A group of guys are headed to Cape Lookout for a long weekend of surf fishing. Weather doesn't look great but that means the fishing will be! Anyone been recently with any reports? Drum Wagon has been fairly slow. We are headed over on the Davis Ferry and headed south to fish the point primarily. A buddy and I always go towards the jetty for some trout/flounder action. We will have cut mullet as our main bait but hope to find some live bait inside the hook too.
Anyone with any tips/suggestions/reports, I'm happy to have them! Thanks in advance!
_________________
2016 22 ft Robalo Cayman
2016 Yamaha F200

SOLD - Pearl Miner
2009 25 ft Carolina Classic
Volvo D4 300
---
Posts: 52
Location: Raleigh NC
BeeReel, Unfortunately, I do not have any insight for you other than what you've read online, but a couple of buddies and I are heading over there also Fri-Sun. We're staying in the cabins, and will be in a Blue Honda side by side and black GMC 2500. If you see us, stop and holler, or give us a shout(Pinfish, TobaccoPaid, or InRecess) on handheld VHF 68, and we'll share whatever intel we come across. Feel free to do the same. Good luck! Will
---
Posts: 839
Location: Wendell, formerly from Burgaw
A friend of mine went last week. Caught some. Mostly on cut mullet. I saw a photo of them with a table full of fish to be cleaned. Good luck.
_________________
C Wayne, Retired
20 ft Wellcraft
Salt Water Therapy

Wayne Batten Agronomic Services
---
Posts: 128

Try Gulps and soft jerkbaits along bank east of jetty. Have caught flounder throwing from boat up into breakers on fairly calm days. Sometimes glass minnows are thick against bank. Have seen FA 10 feet off bank.
Try 1/16 oz jighead with small Gulp forktail minnow jerkbait( 3 inch) tied off with 1/8 oz jighead with slightly larger soft jerkbait ( Zoom fluke, etc) following about a foot behind--use fluorocarbon 20-lb leader. Tie with loop in rig for the fishing line tieup. It will be like a "speck rig".
May the weather gods smile on you...
Ps: the small bay-like area between the red sea buoy and the spit of bar looking towards Morehead City sometimes holds spec trout.
---
Posts: 750
Location: Wilmington, NC
We survived 5 days of camping/fishing and had a great time. Fishing could have been better but we managed to catch a lot of fish - just not all the target species. We had lots of blues and small pompano, several keeper flounder and a few drum. I was lucky enough to get the big fish for the trip at 24". Caught him on a 2-hook bottom rig I was fishing right behind the shorebreak - have to admit I was trying to simply kill time on the little pompano while waiting for my big baits to get hit so this was a nice surprise!

wdowens - sorry we missed you! We left out on Wednesday night and cell service for me is so bad over there I never even tried to pull up this site! Hope you had a good trip!

plowhandle - did a lot of fishing with soft plastics but had too much weight - I had 1/2-oz jig heads. I got into some of those FA's last year that were very close to shore - fun,fun fighting them on a flounder rod with a Battle 3000! I threw the soft plastics between the point and the jetty's where the water was a little more calm. This is the section of beach most of the flounder came on. But this year they were catching them with mullet on carolina rigs.

It was another great year on the southern Core Banks - can't wait until next year!
_________________
2016 22 ft Robalo Cayman
2016 Yamaha F200

SOLD - Pearl Miner
2009 25 ft Carolina Classic
Volvo D4 300
---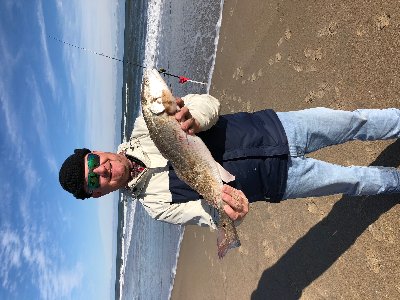 ---
---
---
---
---
---
You

cannot

post new topics in this forum
You

cannot

reply to topics in this forum
You

cannot

edit your posts in this forum
You

cannot

delete your posts in this forum
You

cannot

vote in polls in this forum
You

cannot

attach files in this forum
You

can

download files in this forum

Veteran's Day - SaltwaterCentral.Com