---
---
Posts: 17
Location: Holden beach
Sun Aug 04, 2013 12:49 am
So yeah unfortunately didn't have the mindfulness to take a photo of the fish, but today we were at the tower and my brother pulled up a decent sized orange fish with a massive mouth and a real big head, pretty flat too...It was flame orange with black spots and was bumpy all over...It also got destroyed by a cuda on the way up...It had teeth as well. Sorry for the lack of a picture but I have never seen a fish like this and I have fished the tower many, many, many times.
---
---
Posts: 17
Location: Holden beach
No it was almost prehistoric looking....it had a flat head...the mouth was very wide, probably 3-4 inches wide and was really really bumpy...The black spots were all over it...I know this is a salamander but it honestly had like the head of a salamander almost...I wish I had taken a picture it was one of the weirdest things i'd ever seen[img][/img]
---
---
Posts: 17
Location: Holden beach
WhiteLakeBuc wrote:
Oyster toad?


It looks a lot like that, although it was more orange than yellow and if it was one it was one of the bigger ones...i'd estimate 18-20"....Looks a lot, lot like an oyster toad...Thanks a lot WhiteLakeBuc
---
Posts: 776
Location: Hampstead, Seafood Capital of the Carolinas
WhiteLakeBuc wrote:
Hogfish

Did it look like this?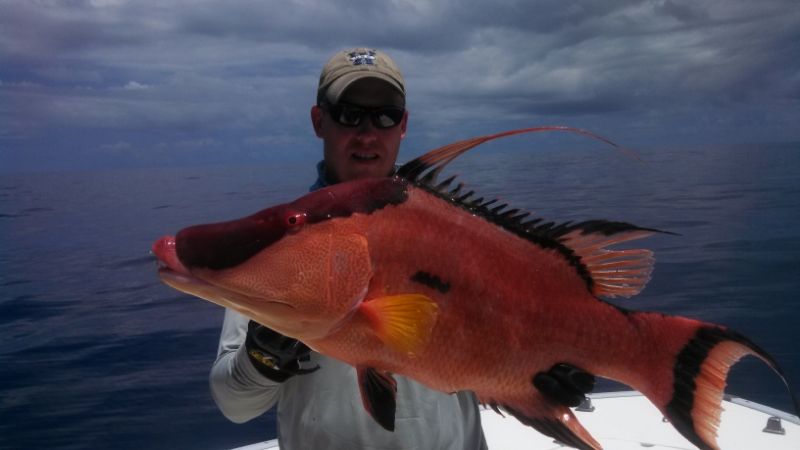 ALRIGHT NOW PETE, QUIT SHOWING OFF! HAHA!!
CC

_________________
10% of fisherman catch 90% of the fish.......

CC
Cape Fear NC
---
Posts: 8
Location: Carolina Beach
Possibly scorpionfish
_________________
Grip it till you\'re black n blue!
---
Posts: 82

---
---
---
---
You

cannot

post new topics in this forum
You

cannot

reply to topics in this forum
You

cannot

edit your posts in this forum
You

cannot

delete your posts in this forum
You

cannot

vote in polls in this forum
You

cannot

attach files in this forum
You

cannot

download files in this forum

Caught an Orange fish at FPT - SaltwaterCentral.Com